The #1 Vape Detector for Hospitality Facilities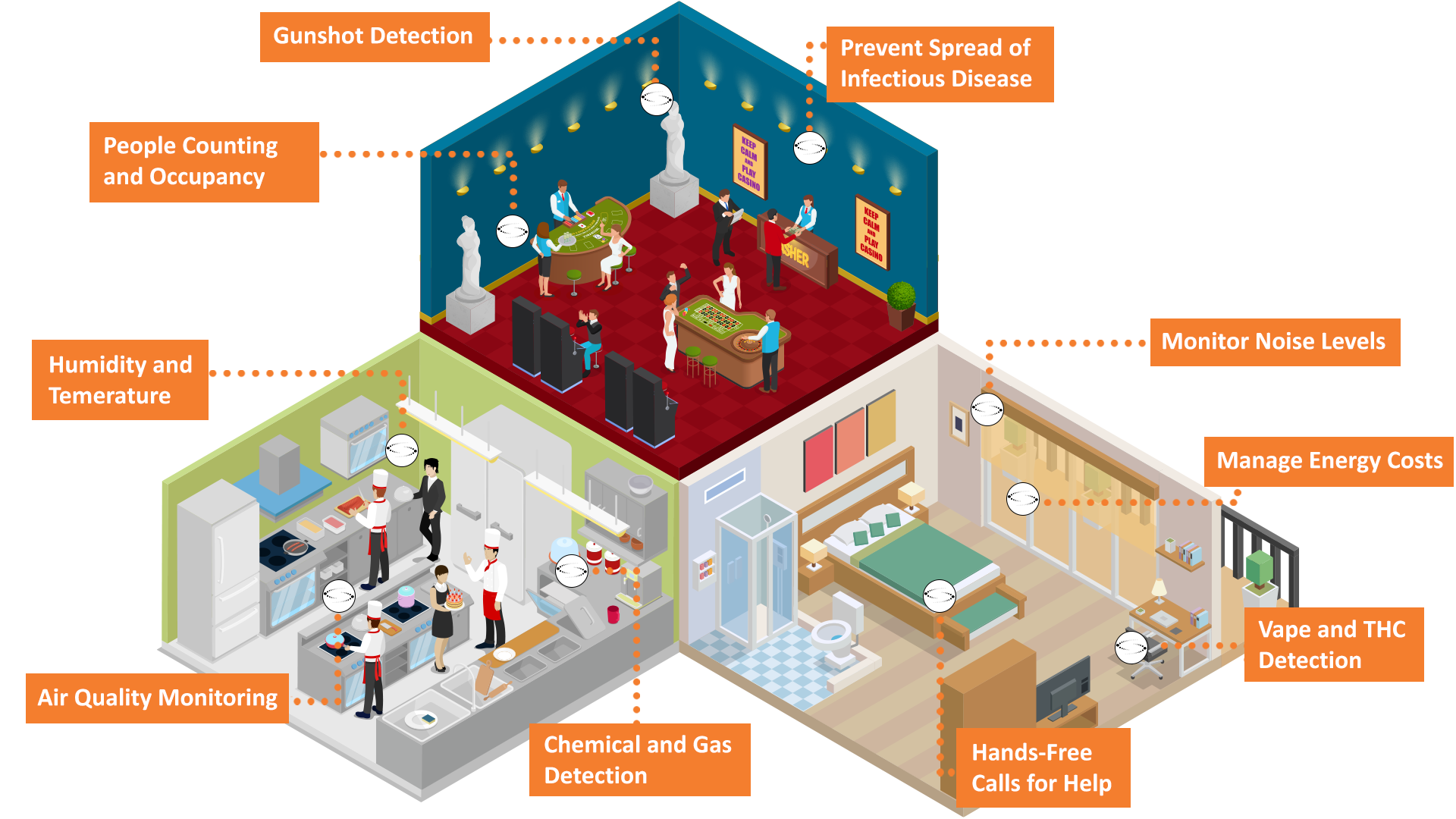 Take the first step in ensuring a quiet and vape-free environment. Contact us to add HALO to your Hospitality Facility.
HALOs Top Sensors And Features​
Vape and Marijuana (THC) Detection
Identify vaping and THC usage in privacy areas such as guest rooms, bathrooms, break rooms, and common areas.

Disease Prevention with Health Index
Ensure your guests and staff are safe from airborne diseases, prevent the spread of infectious disease, ensure rooms have been cleaned, and the air is properly filtered.
See the average quality of the air you are breathing over the course of a few hours. Automate and ensure proper ventilation in each room with BACnet integration.

Add an extra layer of protection with HALO. Identify gunshots and the location with two-factor authentication. This sensor is 3rd party certified.
Aggression Detection and Calls for Help
Students and staff can call for help using specific keywords. Get notified of fights in bathrooms, locker rooms, and dorm rooms.
Chemical and Gas Detection
Catch chemical spills and hazardous gases in science labs, mechanical/utility rooms, custodial closets and maintenance areas.
CUSTOM: Vandalism & Trespassing Alerts
Receive notifications when lights or noise is detected in unauthorized areas and after hours.
CUSTOM: Manage HVAC Energy Costs
Monitor HVAC effectiveness and only use when rooms are occupied.
CUSTOM: Monitor Noise Levels
Manage dangerous noise levels to stay within OSHA requirements. Identify and respond to noise disturbances.
"As an owner of vacation rental properties, the HALO product has been great. As a privacy device, I can put it anywhere in my units and it tells me if someone is in the unit if they are vaping or smoking, if they are having parties or excessive noise, and it even told me when someone was using cleaning chemicals to take care of a spill at 3am."