Youth vaping has become an epidemic, according to the US Surgeon General, while the market leader, Juul, just received a $12.8 billion investment from the largest cigarette manufacturer, with the WSJ saying that "Teen Vaping Has Created Addicts With Few Treatment Options".
In the midst of this crisis, more and more schools are looking for ways to combat this, including detecting when vaping occurs.
One company, IPVideo Corp believes they have an answer to this with their Halo Smart Sensor. Based on our research and interview with company principals, we take a look at:
Large investment in vaping
Vaping statistics
IPVideo Corp overview
Halo overview
Testing
3000 units already sold
Residential version forthcoming
Looking for funding partners
Competitive advantage
Market strategy
Executive Summary
The HALO solution claims to use AI to learn customary levels of ambient gases, chemicals, and noise and then alarm and notify when those levels are off-normal. The Halo can also be integrated with existing systems.
However, the solution MSRPs for around $1,000 a unit, which is more expensive than more traditional security devices like many legacy cameras, and most smoke, CO, and gas detectors.
While IPVideo Corp has been around for more than 20 years, the Halo is a new (not generally available yet) product and we have not tested it, though the company reports preorders of thousands of units.
Large Investment in Vaping
A December 20, 2018 story on Crunchbase details a hefty $12.8 billion investment in vaping/e-cig company Juul by Marlboro parent Altria—the largest tobacco company in the US. Atria's 35% stake in Juul is a multi-billion dollar vote of confidence in the future of vaping. Altria's investment makes Juul a sizeable company as seen in the excerpt below:
This large cash influx puts a massive amount of marketing muscle behind Juul and vaping. According to VapingDaily.Com, Juul is the No. 3 vaping brand for 2018. While the buy-in from Altria is a boon for Silicone Valley startup Juul, the growing popularity of vaping, particularly among young people, is a real headache for schools.
Vaping statistics
2016 research from the National Institute on Drug Abuse that looked at vaping among kids showed that 70% of teens were exposed to vaping marketing as shown in the screencap below:
Furthermore, there are lots of kid-friendly flavors, like mint, mango, crème brulé, and fruit medley. What this translates to is that more and more kids are sneaking into school bathrooms to vape.
IPVideo Corp overview
IPVideo Corp, founded in 1996 and based in Bay Shore, NY, has 80 employees and considers itself primarily a manufacturer:
We're a little bit of a hybrid. We manufacturer 5 products and then distribute other products, like Gallagher for access control, and Milestone, Panasonic, Axxon, Hanwha, and Axis for VMSes.
IPMV examined IPVideo's Nomad wireless, battery-operated camera in 2016.
The video below highlights some of the Halo's features: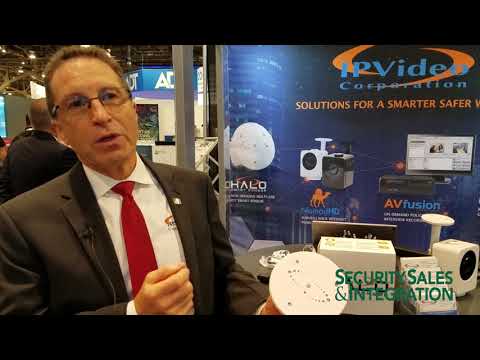 GSX 2018: HALO IoT Smart Sensor by IPVideo – YouTube
IPVideo said it manufactures all the Halo hardware itself and partnered with CEWIT Center at Stoneybrook University for software development.
Halo overview
The product, with chemical, gas, noise, and light detection, aims at helping schools fight vaping and school violence epidemics. However, the company says it has applications in other areas as the excerpt below shows:
IPVideo said the Halo, with an MSRP of $995 fully programmed and integrated into a customer's VMS or other security backends, comprised a Linux chip inside a CPU and various sensors on a sensor board. The company said the system also used AI to learn patterns and then go into alarm and notify when levels of a substance or sound were off-normal. The Halo can also connect to 3rd party sensors like water detectors and is equipped with Bluetooth for that purpose. The Halo unit can be surface or recess mounted.
Their Testing
Testing the unit was very important IPVideo said. They conducted testing in-house with a custom-built testing chamber:
We have set up in our lab a test chamber where we mount a unit and inject known volumes of gases into the chamber to gauge its capability to detect those gases. And then we had 'vape days.' We're probably one of the few companies that have allowed employees to come into work and vape in order to test the sensors.
3,000 units already sold
Halo is not available to the mass market yet but will be there in a matter of weeks, IPVideo said:
We just introduced the product. We have 60 pilots under NDA right now. However, we have another 3,000 units coming in January and those are already sold. Then we'll be at general availability.
Residential Version Forthcoming
While right now, IPVideo said education, property management, hospitality, and healthcare are driving Halo's growth, there was a residential model planned:
There's a residential model that will be coming out soon. We're hoping Q4 of next year.
IPVideo said the development and launch of the residential model will depend largely on future funding. They said the residential unit would be scaled back, most likely would be battery operated or PoE and would have a much lower MSRP.
Looking For Investors
IPVideo is a privately held, privately-funded company, but said it was actively pursuing funding options.
We're looking for funding partners for this product to blow it out. We've worked with a number of outside agencies and we're looking for the best fit right now.
IPVideo Corp received $12 million investment in 2013.
Competitive advantage
One of the claimed competitive advantages of the Halo unit over competitors like FlySense from Soter is its ability to integrate with a customer's existing life-safety and security infrastructure:
Our device integrates into various VMS products using their event managers. Then we also have the ability to connect into fire and burg via a typical I/O relay. And of course, we can send notifications via email and text files. Through the relay, we can also go directly to any access control system.
Halo is currently integrated to Milestone using their Generic Event feature. When a defined threshold is triggered, Halo sends pre-defined string values using TCP or UDP. When these messages match a defined string in Milestone, an event within Milestone can be triggered. Many VMS platforms including Video Insight/Panasonic, Exacq, and Genetec list support for Generic TCP/IP Socket connections in their specifications.
Furthermore, IPVideo said that while the relay works for integration, they are also getting ready to develop direct integrations for access control:
We will begin development next year on direct integration with a couple different access control systems. We've had a couple reach out to us and say they want the integration.
IPVideo also said UL certification is in process, as is IK rating to vet durability. The Halo is also monitored for tampering, while the FlySense, though it has an optional tamper-resistant cage, is not.
Calls and emails to Soter Technologies for input on their FlySense solution were not returned.
Market strategy
IPVideo said that they were taking a multichannel path to market, with a combination of availability through the professional dealer channel as well as direct-to-consumer methods:
We'll do both direct-to-consumer and also the dealer channel. We have about 12 dealers and we're talking to a couple of national distributor chains like Ingram Micro, for example.
Outlook
Since we have not tested this and since this segment is so new, we cannot offer much of an outlook. However, if vaping use continues to grow, we would expect the demand for various countermeasures to increase.
Update
This product won ISC West 'Best In Show' though, important to note, ISC West does not test any products so this is based on the concept, not the implementation.